For anyone interested in IT or civil liberties, this talk next week could be for you. It will discuss the major government databases, technologies and the effects they have on our day to day lives.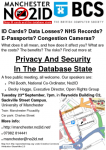 "Privacy And Security In The Database State"
Manchester NO2ID and British Computer Society Manchester present:
Phil Booth, National Co-Ordinator, No2ID
Becky Hogge, Executive Director, Open Rights Group
ID Cards? Data Losses? NHS Records?
E-Passports? Congestion Cameras?
What does it all mean, and how does it affect you? What are the costs? The benefits? The risks? This is a free public meeting. All welcome.
Tuesday 23rd September, 7pm, in Reynolds Building C2, Sackville Street Campus, University of Manchester.
More information on the talk can be found on the NO2ID website here.