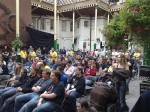 Well, here is it.. my yearly write-up of LUGRadio Live. Unfortunately the LUGRadio team have decided to call it a day after 5 seasons of the podcast, although it was announced at the event that LUGRadio Live will continue, which obviously I am very happy about, as I do really look forward to it each year.
For anyone who has never heard of it, LUGRadio Live is a community conference for supporters of Free and Open Source software. The event was again held in Wolverhampton at the excellent Lighthouse Media Center. I decided to bring my Asus EEE with me this year to note things down as they happen, so you won't have to rely on my sketchy memory afterwards for details of the talks and goings-on.
Saturday
Saturday was a very early start for me, 6am to be precise, the venue was set up the same as last year, with the main stage being the large cinema screen, the second stage being the atrium, and the smaller cinema screen for lightning talks:
Rufus Pollock
Rufus was first on the main stage, with his talk on open knowledge. Presently much of the data collected by government agencies (especially in the UK) and other organisations is locked away or distributed in awkward formats such as PDF or human-readable TXT. Surprisingly the US government happens to be excellent at releasing its data to the public (and why not, they paid to collect it) and Rufus stressed that this is essential for open data to have the success that open code has enjoyed.
Rufus also pointed out the hazards of data and information being locked away with the example of the 800 patents which currently make up the mobile phone 3G standard, and how this presents a great danger to innovation. It was an excellent talk, and I will certainly look into this matter further.
Jeremy Allison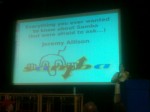 Jeremy works at Google and is a major contributor to Samba, the free-software implementation of Microsoft's SMB (network file sharing) protocol. Jeremy gave a fascinating talk, detailing the history of Samba from it's conception, and giving a brief idea of the future plans for the software. He also talked about Samba's love/hate relationship with Microsoft, and some of the EU and US court cases around Microsoft's lack of interoperability with other products, this resulted in MS having to release specifications for their protocols, which Samba has now benefited greatly from.
Glyn Wintle
I spoke to Glyn briefly at last year's LRL, and joined the Open Rights Group not long afterwards. This particular organisation was formed in 2005, and does an excellent job of "defending our bits" as they put it, protecting our civil liberties when they are threatened by bad or inappropriate digital technology. They do this through a combination of: responding to government consultations, writing to and meeting with MP's and publishing information for the media (one of their spokeswomen, Becky Hogge, is quoted on the BBC News site almost weekly). I was also impressed that ORG now have a member based part time in Europe, monitoring the EU's latest rulings and proposals.
Although perhaps not as well attended as it should have been (shame on those who did not attend!) the talk was highly informative, covering topics such as Phorm, E-Voting, RIPA, and copyright extensions on music. I was particularly amused by the story of the recording industry's full page advertising, listing musicians who would lose out if copyrights on music were not extended, this included several artist's who were deceased, with one who died more than 40 years ago!
The ORG does a fantastic job, and anyone who can afford it should check out their website and donate as much as you can!
Sunday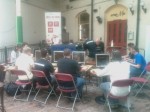 Sunday was a little quieter (as usual) but there was still plenty to see and do, Bytemark's massive gaming rig was an excellent sight to see, and they should be congratulated for bringing it all that way!
Dotwaffle – Demo Scene
I had been wowed by dotwaffle's demo scene talk at LRL in 2006, and so was looking forward to the latest innovations. The demo scene started off as a way for software pirates to 'show off' about their latest cracks, although quickly developed into quite an art form. Dotwaffle showed several different types of demo, most of which are below 8MB in size, including music. An excellent example is "The Popular Demo" which is only 3MB (or 5Mb with music).
I can't really think of a good way to describe demo's, except to say that they are similar to a computer generated music video, with all sorts of fancy effects, although it is important to note that no video is used, demo's consist of only code and graphics. These are then entered in competitions to win prizes.
I was particularly impressed by the size-limited demo's which included 64kb and even 4kb demos. One 4kb demo in particular (Atrium – Loonies) was particularly well done, starting off with a 3D spinning object in outer space, and then building an entire three-dimensional building with walkways and other objects, with a full musical soundtrack, all within 4 kilobytes, which is absolutely phenomenal. Definitely something to check out!
The Mass Debate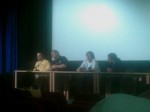 The mass debate this year included Jeremy Allison of Google, Max Spevack of Novell, and Matthew Garrett. Topics included GPLv3, OOXML vs ODF, and Microsoft's release of its product specifications. The debate was stimulating, and some good questions were raised. There were also plenty of joke's cracked at Hans Reiser's expense!

Tango – Designing an Icon
Pascal Klein gave an excellent non-technical overview of the Tango icon project, how things work, the process of creating icons, and an summary of the legal problems that Tango has experienced over the past few years.
Tango provides a standard icon set for use within applications and operating systems, which are all free for usage in any project (as long as credit is given to the Tango team) and are now being used within many Linux distro's to give a standard look and feel across all the pre-installed applications, which have the added benefit that when the operating system's icon theme is changed, it changes not only GNOME/KDE, but all the applications and menu's which utilise the same naming conventions.
I was particularly impressed with how things are beginning to be standardised through the Tango naming conventions, and the Tango style guidelines. Pascal also covered the recent announcement that the Tango icons are being released into the public domain, which will surely increase their usage, and a new project 'TangoNG' will be started to create a brand new icon set, hoping to avoid the licencing problems which plagued the Tango project.
Summary
Another great LRL event, attended be around 300+ people (also I stayed in a much nicer hotel this year!) and I'm extremely happy that the guys have decided to return for a 5'th event next year.
Jonathan
Update 21/07/08: Lucy pointed out that I hadn't covered the news of the Tango icons being released into the public domain, so I have added this into the article.