I attended a talk last night by Richard Stallman at Manchester University. Richard is the founder of the GNU Project and the Free Software Foundation and promotes Free Software adoption worldwide. We were also doing some promotion and flyering for Manchester Free Software at the event, the talk having been expertly arranged by Paul Waring.
Richard gave a history of the GNU Project, the four freedoms and Free Software's benefits and advantages over proprietary software. He also spoke about DRM and the other dangers of non-free software, such as hidden back doors and other spying and monitoring activities.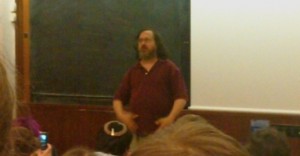 Richard also covered some of the important reasons why businesses, government and educational establishments should use Free Software, preventing the support and development monopolies which are now becoming commonplace, along with the problem of proprietary vendors offering gratis or near-gratis copies of their software to schools in order to keep students reliant on their package and then carry this reliance forward into their future academic and business careers.
We had only been expecting around 100 people to attend but the 300-seat lecture theatre filled up completely, with latecomers sitting in the aisles, it certainly shows how many people interested in Free Software we have in and around Manchester. The talk was very informative and I hope Richard returns to the UK at some point in the not too distant future.
Jonathan