I know, I failed miserably. I promised you all last time that I would attempt to keep this blog up to date and it's been three months since the last post.
However, if I've learned anything from previous experiences, it's that setting myself deadlines and targets where personal blogging is concerned usually leads me to abandon it. At least this way I'm keeping it alive, even if the updates are infrequent and the audience limited to those who have finished reading everything else on the world wide web and are looking for something self-indulgent to help them sleep.
So, what has been happening. Well, as it turns out, quite a lot.
Interest in my writing appears to have snowballed over several months. I continued my column on the Huffington Post website, writing about same-sex marriage, as well as keeping up with the submissions to Passing Nightmare. I received an interview request from Al-Jazeera based on a piece I'd written about the Occupy London camp for the HuffPo. Unfortunately they needed someone fast, and I was stuck in work at the time, but it was certainly nice to be noticed.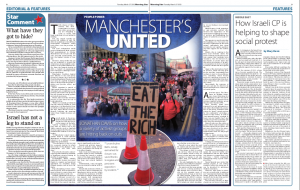 Soon after I received an invitation from the Morning Star newspaper (which I purchase daily) to write some feature articles for them. My first piece for the paper was an overview of anti-cuts activism in Manchester, looking at the campaigning taking place to save council services from closure and at the emergence of radical social spaces. After informing several people of my new year's resolution to get something published in print this year, I have to admit it was quite satisfying to see a piece of my writing appear in a national newspaper on the 27th of March. Despite the hard work involved, I thoroughly enjoyed myself and certainly improved my interview technique during the process. My task for the next week is to figure out what to write next, as well as joining the NUJ, providing they'll allow me in. I remain somewhat doubtful as to whether journalism could ever be my full-time occupation, but I like to think it could bring in a nice second income one day.
My university studies, on the other hand, are not going quite so well. The course has become a little dry, as I predicted in a post last year. As a consequence my enthusiasm for study has been somewhat curtailed. This, coupled with the knowledge that I am no longer allowed any kind of study break until the degree is finished (or else I will be moved onto the new fees structure at three-times the cost) has begun to give me second thoughts about OU study. Even at the present cost, I feel I shouldn't really be investing so much of my cash into study which can at times be incredibly stressful to balance with full-time work and a social life. That being said, I have thoroughly enjoyed my previous courses and there's a possibility I may feel differently once it comes time to choose my next one, following my DD203 exam in June. We shall wait and see, it's certainly not a decision I will take lightly.
One final piece of news is that I've finally signed up as a member of the Manchester Film Co-op. After nine months of attending their screenings I'd really like to get involved more in the running of the group, so hopefully I will be able, time permitting. I'd leave you with a promise to blog here more often, but we all know I'd be lying, so if you're after the latest, or you just want to say hello, find me on Twitter. Adios.