As anyone who knows me well enough will already be aware, I love documentary film. There's something quite unique and beautiful about the medium of documentary film-making, which (when done correctly) encompasses a sheer clarity of storytelling which I don't believe exists in any other art-form. Therefore, when I discovered the Sheffield Doc/Fest, I made it my mission to attend just as soon as I could.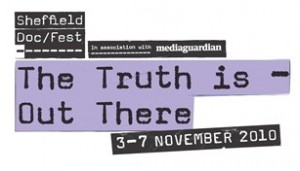 Sheffield Doc/Fest (or to give it it's full title: Sheffield International Documentary Festival) is a 5-day event which takes place in and around Sheffield city centre each year, with the majority of the events and activities taking place in the independently-run Showroom cinema. Doc/Fest, now in it's 17th year, is ranked among the top 3 events of its kind in the world, and this year screened over 120 different films. In addition to the film screenings, the festival also includes sessions for buyers, producers and distributors to meet, make deals and secure the go-ahead for future documentary projects. I however attended with the sole purpose of satisfying my documentary obsession, by sampling just some of the massive selection on offer.
Unfortunately due to work and other commitments, I only managed to attend the festival for three days. However, the nine films which I viewed during my time in Sheffield were all incredible, and I would therefore like to present you with a brief review of my three favourite works.
The Battle for Barking
This film documents the 12 month run-up to the local and parliamentary elections in the London borough of Barking and Dagenham. The film's young director Laura Fairrie obtained excellent access to both the Labour campaign, fronted by Margaret Hodge, and (surprisingly) to the British National Party, who's leader Nick Griffin was himself standing in the constituency. Prior to the 2010 elections, the BNP held 12 seats on the local council, and with their recent better-than-expected performance in the European elections, Griffin made the decision that Barking and Dagenham would be a key battleground for the party, and was where he felt they stood the best chance of success.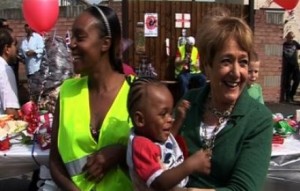 The film opens to the sound of Hodge's expletives, whilst recalling the moment she discovered Griffin would be standing against her. Hodge – recently widowed – decided that in order to defeat Griffin, she would have to appeal to the minorities who would stand to be most affected by a BNP win, and there is no doubt that Hodge was indeed seriously considering losing as a distinct possibility. It's all too easy to cast the BNP's supporters as the archetypal 'thugs' and 'brutes', and although there's no doubt that many shown within the film do indeed fit this stereotype, the film also exposes a deep disconnection between Westminster politicians and the electorate. This 'ivory tower' sentiment is particularly evident at times, as Hodge and some of her supporters place a strong focus on statistics and data, with an initial lack of grass roots action and doorstep campaigning, a tactic which the BNP do indeed exploit to their maximum advantage.
There's no doubt that Griffin was a strong adversary, with Hodge herself describing a BNP election video as 'repulsive but very clever'. However, no matter how much Griffin has attempted to clear up the party's image, the BNP's facist roots are never too far from the surface, with Griffin responding to Fairrie's question regarding what benefit immigrants and multiculturalism can bring to the UK, with the all too telling reply: 'There's a better range of take-away food available, but that's it.'
Anyone who followed the 2010 election will likely already know how this contest turned out, but it's nevertheless very interesting to observe the BNP's reaction to their massive (and unexpected) losses on the night, with Griffin being defeated in the parliamentary elections by a huge margin, and – to rub salt into the wounds – having all of the BNP council seats wiped out in one go. If there was just one thing missing from this film, I would have liked to see some brief discussion of how the mass media discourse feeds into people's attitudes towards immigration, and why some of the untruths and idle logic echoed by BNP supporters and sympathisers attracts so much attention, although this topic was touched on briefly in the post screening Q+A with Fairrie herself. The Battle for Barking was a truly excellent film for me given my strong interest in politics, and Fairrie has done an admirable job in retaining a neutral tone throughout, especially given the countless challenges she was confronted with during the filming process. I'd highly recommend catching it at a screening or grabbing a copy on DVD if you're able.
Marwencol
Marwencol, directed by Jeff Malmberg, is a documentary film following the life of a man named Mark Hogancamp. Following a drunken altercation outside a local bar in Kingston, New York, Hogancamp slipped into a coma for several days and emerged with severe brain damage. Once he returned home (and after his medical cover ran out) Hogancamp began to construct a miniature World War II-era Belgian town which he named Marwencol. The town itself slowly begins to tell a story, a story which features Mark as the hero and his friends and family in the supporting cast. Hogancamp starts to use Marwencol as the main outlet for his mental recovery, and begins to photograph key events in the town, photos which eventually become part of an art exhibit.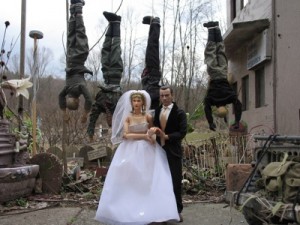 Mark's memory was almost entirely wiped-out during the attack and from an early scene where he is shown opening up his mail and simply stuffing it back into the mailbox, it's clear that he is unwilling to return to the real world. Hogancamp attributes much of the physical and cognitive function he has regained to his work on the dolls of Marwencol, and his mental recovery is similarly improved, with Mark informing us that simply sitting back and observing the events in his fictional town 'soothes' him greatly.
Sadly, Mark is still re-living the attack inside his own head, and his 'hero' character within Marwencol soon endures an almost identical physical assault to the one inflicted on him in real life, although of course this is administered instead (as you might expect) by a gang of invading SS soldiers. It's also clear that Mark is lonely, he is seen at one point hugging a new doll he has acquired, and his character's romances with the women of Marwencol, along with the stories of heroism, are simply an effective outlet for him to express his frustration at the life he has lost. I cannot recommend this film enough, it was funny and yet deeply moving, and I would perhaps suggest it as being my favourite of the entire festival.
12th and Delaware
Heidi Ewing and Rachel Grady's controversial film looks at the ultimate neighbourly disagreement. On a street in Fort Pierce, Florida, at the junction of 12th and Delaware, an abortion clinic sits just cross the road from a 'Pregnancy Care' centre run by a pro-life group, who's sole intention it is to prevent women from terminating their pregnancies.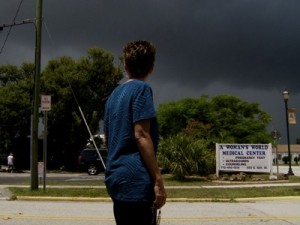 The film begins at 5am, as pro-lifers gather outside, heckling the clinic's staff as they arrive for work, and the intimidation continues throughout the day, as the women approaching the clinic are preached at in a highly confrontational and deeply insensitive manner. Other pro-life supporters hold placards depicting gruesome images of aborted foetuses, and hand out misleading and factually-incorrect leaflets linking abortion to breast cancer, infertility, and even to death.
The owners of the 'Pregnancy Care' centre (yes, the name is just as misleading as it sounds) actively exploit the similarity between the two premises, in the hope that women who have booked an appointment at the abortion clinic will mistakenly enter their own building.Once inside the pro-life centre, women are shown more leaflets, made to watch gruesome videos, and even bribed with food and money in an attempt to change their minds. In a frankly shocking exchange, one pregnant woman is even advised to keep her baby and stay with her abusive husband because: 'The baby might change him'. Whatever your own personal view on abortion, I think we can all agree that these kind of bullying tactics are both unnecessary and utterly disgraceful. The film ends with a simple yet frightening statistic: that pregnancy care centres now outnumber abortion clinics in the United States by 4000 to 816.
This was the film I had been looking forward to most prior to the festival – as I had immensely enjoyed Ewing and Grady's previous film 'Jesus Camp' – and it certainly did not disappoint me. A member of staff informed us that the 10pm screening I attended had sold out at 10am, clearly demonstrating the massive audience which exists for documentary films which tackle complex religious and ethical issues such as this. Whilst 12th and Delaware may not have featured the same graphic imagery and intellectual analysis as Tony Kaye's Lake of Fire (which I consider to be my favourite ever documentary), as with The Battle for Barking, Ewing and Grady provide a master-class in exceptional and politically neutral film-making, and one which is well worth taking the time to watch.
Conclusion
I immensely enjoyed my first trip to Sheffield Doc/Fest, although there are a few tips I would like to impart on anyone considering making the journey themselves. Firstly, book your tickets early. Many of the films I attended were packed out, with people relying on the standby list to obtain entry. Secondly, although plenty of hotels exist in and around Sheffield, the accommodation quickly fills up, and I had ended up paying way above the odds to get a room two weeks prior to the event.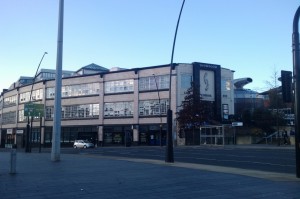 I also want to briefly mention some of the other films I saw which genuinely surprised me, these included Antony Butts' After the Apocalypse, which examined the after-effects of Soviet nuclear testing in an area of Kazakhstan called the Polygon, and Waiting for Abu Zayd which follows the liberal Islamic scholar Abu Zayd and discusses the alternative interpretations of the Q'uran which saw him declared apostate and exiled from his home country of Egypt. Another fantastic film which deserves a mention is Waiting for Superman, a powerful documentary which investigated the dire state of public education in the United States. Almost all of the films included a post-screening Q+A, the most interesting of which was with the producer and editor of the Banksy film Exit Through the Gift Shop, in which they provided some detail on the story behind the films conception, and some enlightening exchanges with the audience took place regarding one of the film's stars: Thierry Guetta, specifically regarding his progression through the art world since the film's theatrical release.
Overall, it was a fantastic weekend, and not one of the films disappointed me. The Showroom (similar to Manchester's Cornerhouse and Wolverhampton's Light House) is an excellent cinematic venue, with four large screens and excellent facilities. The big announcement, made just prior to this year's event, is that the festival will be moving to the month of June in 2011. Given just how much I've thoroughly enjoyed myself over my 3 day visit, I'm already 99% certain I will be taking some time out to continue my documentary obsession in Sheffield once again next year.