After my last in-depth book review back in February I thought I would quickly write up what else I have been reading so far this year:
Noam Chomsky – Hegemony or Survival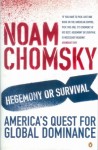 Chomsky's 2003 book is a summary of US foreign policy from the end of World War II up until the current Iraq War, examining America's pursuit of global dominance and it's terrible consequences. Chomsky expresses his view that although the attacks of 9/11 were shocking and deplorable, the biggest shock was that for the first time the guns were pointing in the opposite direction. My only criticism of this book was that due to the high volume of names, dates and figures, I found myself occasionally reading paragraphs twice. Nevertheless it was a fantastic book and I'd highly recommend it alongside the pocket book 'Media Control' as a excellent intro to Chomsky's world view.
The Cold War – A Very Short Introduction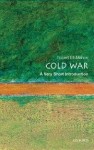 The 'Very Short Introduction' series from OUP provides an excellent foundation for exploring a subject, giving the reader a wide-ranging overview of events and opinions whilst attempting to maintain impartiality. This particular book is no exception, it begins by explaining the radical changes taking place after the end of the Second World War and going on to discuss how events all over the world, such as the wars in Vietnam and Korea, fueled tensions between the US and the USSR and how diplomatic measures were in full swing in an attempt to prevent a full-blown nuclear war. I'm almost at the end of this book and while almost all of the events took place before I was born, it has been very enjoyable history lesson for me.

British Politics Unravelled – Giles Edwards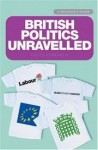 I came across this little gem from 2005 whilst in my local library and whilst it's now sadly out of print, I managed to find a copy for myself on eBay. It's essentially a beginners guide to British Politics, covering important questions such as: How does the Constitution work?, What actually happens in No 10? and What is an early day motion? The book also has chapters on British Law, Elections, the EU, the Economy and even the Media. It discusses for instance, how a newspaper chooses it's political allegiance, what the purpose of a party whip is, how 'spin' works, it even details the powers that exist within courts and local governments. In fact, the entire book is a goldmine of useful and interesting information, presented in an easy to understand and concise manner. I ended up tracking down Mr Edwards to congratulate him on a job well done, which isn't something I have done with any other author. Politics isn't exactly everybody's cup of tea, but like it or not, it affects almost every aspect of our lives and if you have any interest in learning about the political process in the UK then this book should be at the top of your shopping list.