Yes, it's another Ubuntu release preview blog, I know I always do these, but they're interesting!
Well, to me anyway!
Although before I jump into Ubuntu though I'm going to talk a little about some of the other work I've been doing lately. My PHP work is coming along well now, and I'm working on several different projects, all documented on my new code website:
JDCMS – The newest project, started only about a week ago, is a very basic content management system (CMS) designed for an administrator with no technical knowledge to keep a basic website (html/css) up to date through a very easy web interface. I have integrated the TinyMCE editor into the package and it's almost ready for an alpha release once the code has been cleaned up and the CSS is complete. This will be the CMS used for a charity website I am currently working on.
[Update 22/02: An Alpha has now been released.]
ATS – Airport Taxi System, is being developed as a project to replace an aging Lotus Smartsuite system with a brand new PHP/MySQL database. It will cover all aspects of the business, including bookings, customer/driver management, code tables for airlines/destinations etc, financial and misc reporting, PDF/E-Mail outputs and letters. This will eventually be open-sourced for anyone to use, modify and contribute back.
OrgDirectory – This is a basic organisation/staff database I have been working on. Work on this has stalled slightly at the moment, although an alpha release was completed late last year. It needs an overhaul of the design and graphics, and also needs plenty of new features before it'll be useful to anyone! This one's on the back burner, or might just get scrapped!
[Update 27/02: Yeh, I scrapped it!]
Now on to Ubuntu 8.04:
8.10, due for release in April, is the latest incarnation of the Debian-based distro, and only the second Long Term Support (LTS) release from Canonical. This will mean 3 years support on the desktop and 5 years on the server.
Among the usual X-Org and Kernel updates, there are some interesting new features that should make a significant difference to end-users, and might help Ubuntu/Linux/GNU to take the edge over Microsoft, in the wake of Vista's failure to perform as expected.
Transmission – Gnome's Bittorrent client is set to be replaced (thankfully!) with Transmission. Although not my favourite Torrent client (which if you're interested is Bittornado) it is certainly an improvement and novice users might find it easier to use.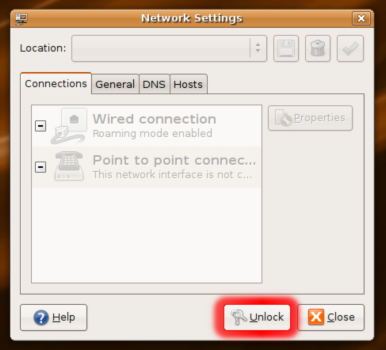 Policykit – Policykit is a new security framework that allows security to be applied not just to applications, but to certain aspects of an application. This will allow application authors to tailor access to features/screens to a very specific security level, and should you try to access a part of the application not allowed by your access rights, you will be able to to unlock it with the sudo functionality.
Firefox 3 Beta's – 8.04 will include the option to test out the latest versions of Firefox from the repositories, with a shedload of new stuff, including tighter integration with GTK, updated download manager, ACID2 support, and better bookmark management.
Brasero – Replacing the (very basic) Serpentine package is Brasero, a CD/DVD burning application, which can be used as an alternative to the Nautilus burner, and hopefully might reduce my previous reliance on K3B, so another nice change there.
Nautilus – Version 2.21.6 includes various new fixes and a new virtual filesystem (GVFS) which fixes many of Nautilus's file-handling problems, including not being able to restore from the trash, and being able to handle multiple file transfers much more neatly.
Vinagre – A new default VNC client which supports bookmarks and multiple tabbed connections is a MASSIVE improvement over anything I have seen in the past for VNC on Linux. Although I'm not a massive user of VNC (SSH is where it's at!) I am really looking forward to this one.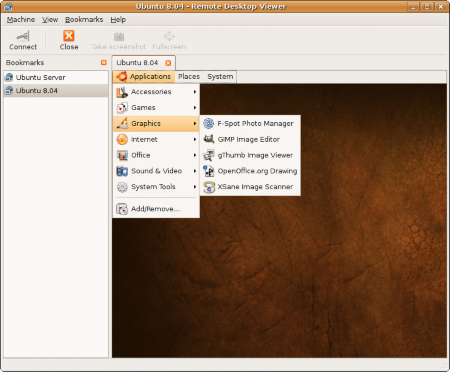 8.04 includes many other changes to the default system, including a new world clock and improvements to the System Monitor and new KVM features.
Hardy Heron (8.04) will eventually replace my Dapper Drake (6.04) web server, so I'm particularly interested in this release as a LAMP server. It certainly looks like they're preparing for an excellent LTS release, but time will tell.
Jonathan