Just returned from LugRadio Live 2007 in Wolverhampton. I had a superb time as expected, the weather was great and there was a HUGE amount to see!
Saturday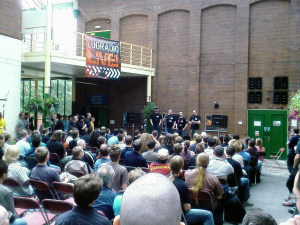 I arrived feeling quite refreshed on Saturday morning, surprising given the frighteningly early wake up of 6AM, like last year I spent a lot of time in the main stage, which this year turned out to be a cinema screen! The Linux-loving crowds were out in force, I'd say there were about 500 people in attendance. Anyway, here's my Saturday summarised:
Ted Haeger – Bungee Labs
Ted is a former Novell employee who now works for a VC-funded start up called Bungee Labs in the US. Their product is called "Bungee Connect" and is basically a web-based IDE for developing web applications. It is quite similar to the EBase tool I have used in work in the past, but is geared more towards developing sites with AJAX, and getting them shipped fast. Ted was entertaining as always.
Alan Cox – Red Hat
Alan is a Kernel hacker for Linux who currently works for Red Hat, Alan spoke about the Linux community, how things work, how changes are made and development takes place, and marketing of Linux. Overall a very informative talk.
Gong-a-Thong Light Bulb Talks
These were a series of short 3 minute talks compared by one of the presenter's 'Adam Sweet' who arrived on stage in a dressing gown to the rocky theme tune, who promptly stripped off to reveal a bright yellow thong (thankfully with a pair of pants below). The talks themselves were interesting, the ones I can remember included an American man who had travelled from Indonesia who wanted to start using free software in this area to help the recovery after the Asian tsunami. The winner was a young man who had a speech on how ordering food at a bar was akin to computer networking, he revealed how it was open to 'spoofing' and 'denial of service attacks' and was a hilariously funny skit.
Mass Debate
This debate included Chris DiBona from Google, Becky Hogge of the Open Rights Group, Nat Friedman of Novell and Steven Lamb of Microsoft. Steven took the brunt of the crowd's heckling as he did last year, mainly over Microsoft's creation of the OpenXML file format, with the crowd wanting to know why MS created OpenXML, when a free version, created with consultation with the free software community, which is also ISO accredited, already existed! He also took some stick over the BBC's usage of Microsoft DRM in their iPlayer software, which will exclude any non-Windows machine from accessing BBC content over the web
Chris DiBona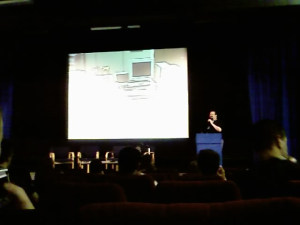 Chris is Google's open source program manager. He gave a talk on the area's where google uses open source, where they contribute back to the community, and a lot of information on the Summer of Code program. Amazingly Google has released over a million lines of code into the community and has also contributed to projects such as Apache, MySQL, Wine, Samba and Gaim. He also talked about the history of Google and showed some amusing slides of the original google set-up, which consisted of several assorted machines and a monitor on a desk! Chris seemed like a great guy and stayed around for the whole conference which is rare for international visitors, I even managed to grab a quick chat with him which was nice.
Unfortunately I missed Kat Goodwin's talk on Open Source advocacy in Schools, which I was a little gutted about as it's something I am really interested in, but hopefully I can get a summary on it from someone!
Sunday
Sunday was a little quieter, not quite as many attendees, but still plenty to see and some additional exhibition stands. I spent a good amount of time on Sunday chatting to a man called Glyn from the Open Rights Group, he talked about the projects they have been involved with, such as efforts to eliminate DRM which will should soon result in legislation to force products that use DRM to be labelled as such. He also talked about the work they have been doing with monitoring and discouraging the Electronic Voting trials in the UK, which is certainly a good idea given some of the awful errors that have been made already, and the amateurish way that the system is being run, one example Glyn pointed out was one where a miscalculation in an Excel spreadsheet (yes, I know how stupid that sounds!) almost cost the SNP control of Scotland. I will certainly be signing up to support the Open Rights Group.
Michael Sparks – BBC
Michael is from the BBC's research department and showed off some of the applications that they have worked on, including several from Google Summer of Code students. Some interesting ones including a BitTorrent Swarming application, and a secure network transport method which arose from certain high profile shows such as Doctor Who needing to be protected from theft during their transport.
Nat Friedman – Novell
Nat gave a very interesting talk where he compared the writing of the Dictionary, it's many versions, revisions and authors as being one of the first examples of Open Source collaboration, he also discussed usability on the Linux desktop, and spent a large amount of time discussing patents, including the formation of the Open Invention Network, which is a collaboration of several high profile organisations with a large patent pool, to protect open source projects falling foul of intellectual property laws, and helping them out by counter-suing if necessary.
Wolverhampton itself is a fairly nice city, the usual shops you'd find anywhere nowadays, but it does have a nice air to it, and the venue reminded me very much of the Cornerhouse in Manchester, coffee shops, art, and independent and international cinema, a lovely place to hold a free software conference.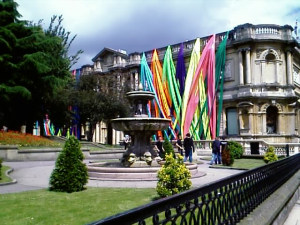 I spent most of the afternoon wandering around the exhibition, talking to people and drinking beer in the sunshine! All in all I had a truly excellent time, the people were great, the exhibitions gave me some great idea's and I bought tonnes of merchandise, along with the HUGE goodie bag I got on entrance! I have posted a few pictures I took above, but more can be found here! Roll on LRL 2008!